Classic endless corrugated cardboard
with a zigzag stacking on a pallet, flexibly cuttable
custom-built box profiles with or without individual grooving.
Maximum width 2.750 mm
Large cuttings
Straight cut or optional with integrated stopper, with a zigzag stacking on a pallet, prefab cut to product dimensions, custom-built box profiles with or without individual grooving.
Maximum width 2.750 mm
Single wave structure: E – Wave, B – Wave, C – Wave
Double wave structure: EE – Wave, EB – Wave, BE – Wave, BB – Wave, BC – Wave
In a variety of configurations tailored for your goods.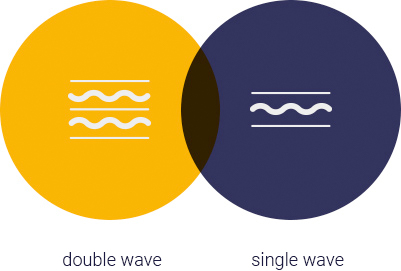 Closing Straps
With 2, 3 or 4 straps to seal the front side by crimping or adhering
Additional Services and Finish
monochrome or bichrome print of basic references or individual company information
high quality print with high resolution preprint technology
perforation
prototype creation
sample creation
storage for key accounts
flexible delivery times
supply of 4 pallets per measurement
tear fracture for fast and comfortable package opening
Manufacturing Solutions
Flexible packaging systems to handle endless corrugated cardboard on your premises.
Tailor-made packaging solutions have a positive effect on your packaging process because the package always fits the goods and thereby reduce the overall packaging costs.
More advantages in detail
less stockkeeping of numerous types of packages that are substituted by one product – endless corrugated cardboard
just-in-time package manufacturing on-site from batch size 1
savings of up to 50% oft he hitherto packaging expenditures are feasible